Compare Modes is a feature available to premium users that allows you to look at a sentence and see the result you get for that sentence in each of our modes. You can then chose to replace or keep your original sentence.
How do I open Compare Modes?
Compare modes can be opened by clicking on the icon in the settings bar to the right of the page. The Compare Modes icon is circled in red in the image below: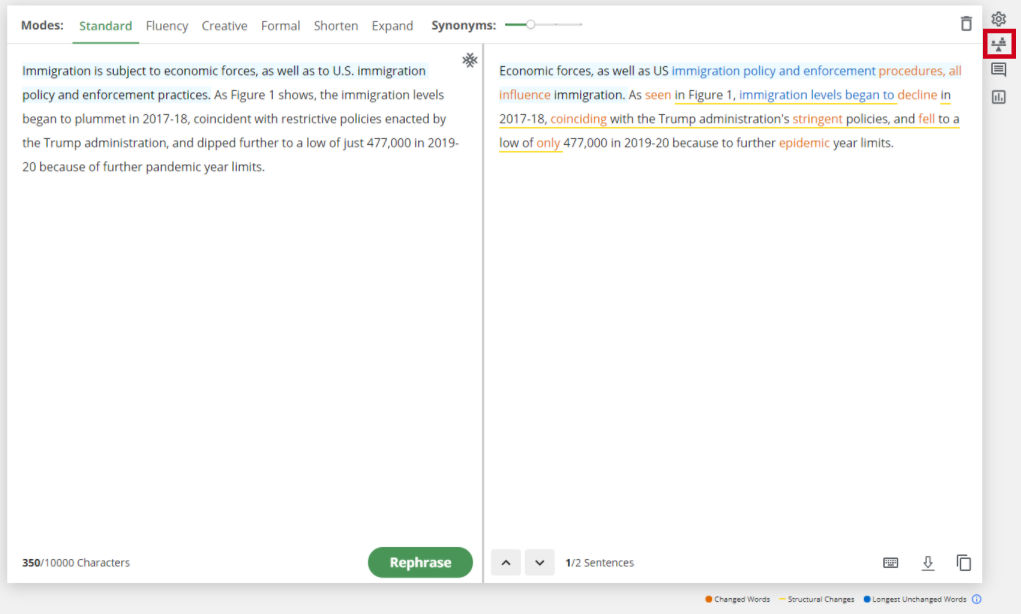 How do I use compare modes?
To use compare modes, first start by paraphrasing some text. Then, open compare modes. A sidebar will open on the right side of the page, and your screen will look like this:

In the Compare Modes section, you can see the original sentence (what the sentence was before it was paraphrased) and the results from all of the modes at once. The result from the mode you paraphrased in will be selected by default among the options in this screen.
To choose a sentence, simply click the "Select" button next to the text you like. This will automatically replace the paraphrased sentence in your results with the one you prefer. You can also rephrase the individual sentence results by clicking on the circular arrow icons, or copy the sentence by clicking on the copy icon.