The Synonyms tool changes the amount of words that are replaced by synonyms in the text. The slider is used to adjust the number of synonyms being added. A high number of synonyms being used in the text can possibly alter the meaning.
Where is the Synonym tool?
The Synonym tool is located above the input and output boxes, to the right of the modes. You can see it circled in red in this image: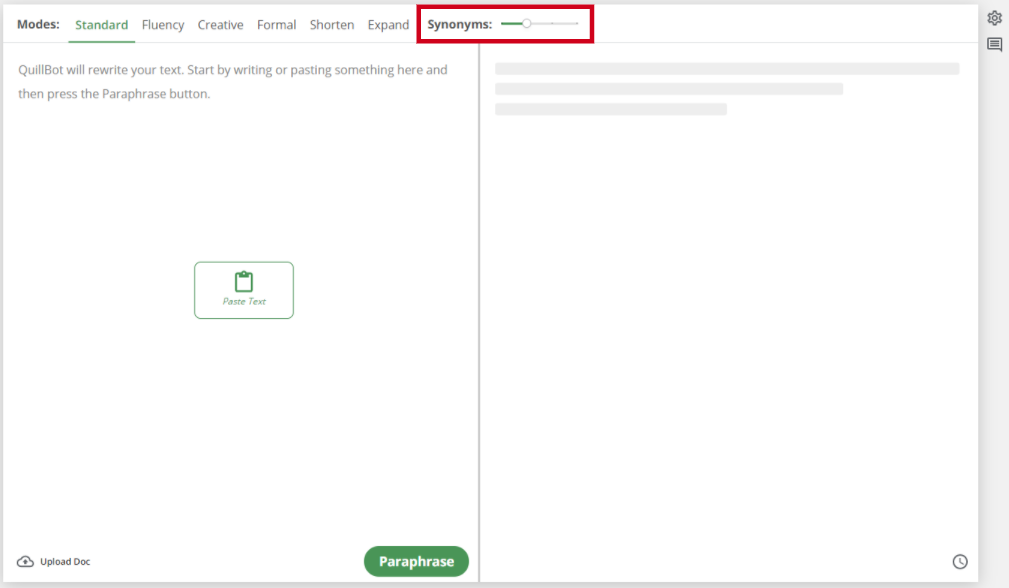 What are the settings on the Synonym tool, and how do I change it?
There are four settings on the tool:

The settings are in order of weakest to strongest. This means that 1 will replace the least amount of words, while 4 will replace the most words. By default, the tool is set to 2 in every mode.
You can change the setting by clicking and dragging the dot, or by clicking on the line itself.
Why can't I use the highest setting?
The highest value is only available to premium users - for free account users, it will appear restricted as in this image:

Can I make instant changes to my text with the Synonym tool?
Similar to the modes, you can instantly reparaphrase a selected sentence by changing the value on the tool. However, if you want to reparaphrase the entire text, you must click the green Paraphrase button after changing the setting.